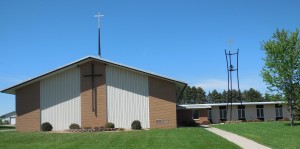 St. John's Evangelical Lutheran Church – LCMS
(The Church of the Lutheran Hour)
101 Park Street (PO Box 18)
Garfield, MN 56332
320-834-2248
Pastor Jeffery Ross
9:00 a.m. Sunday – Worship
10:00 a.m. Sunday – Coffee Fellowship
10:15 a.m. Sunday – Sunday School & Bible Study
Tuesday 9 a.m.  Quilting
Thursday 9 a.m. Bible Study
Office hours are Tuesday – Thursday 8 a.m.-Noon and by appointment.  Pastor's cell phone is 1-248-321-2982.
At St. John's we receive the gifts of our Savior Jesus through His Word, Baptism, and the Lord's Supper. Please join us as we celebrate our crucified and risen Lord!
Established in 1910, the year its building was erected.  In 1970, the church was torn down; the site leveled and sold.  A new church was built on the corner of East Park and South State, which is approximately 2 blocks from the original location.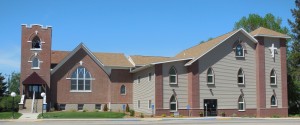 St. Luke's Lutheran Church – LCMC
(Lutheran Congregations in Mission for Christ)
201 East Ida Street (PO Box 35)
Garfield, MN  56332
320-834-2285
Clergy:  David L. Gran, Pastor
Sue J. Davidson, Associate Pastor
David Wallin, Visitation Pastor
Worship services:   8:30 & 11am  Sundays
Holy Communion, second and last Sundays of the month
Bible Classes:  9:45am Sundays (3 years old though grade 12)  September – May
Adult Bible Class:  9:45 am, 6:30pm
Coffee & Fellowship between services
Organized in 1869 by Swedish immigrants north of Garfield, then known as the Lake Ida congregation.  A new church with a tall steeple was built in 1879 and burned to the ground Christmas Day, 1921.  The congregation relocated to Garfield in 1922, on land donated by the Salstead family.   The name was changed to St. Luke's in 1949.  St Luke's is a mother congregation to Calvary Lutheran in Alexandria.  The present 1922 building was added on to in 2007 and in 2013 to meet the needs of a growing congregation.